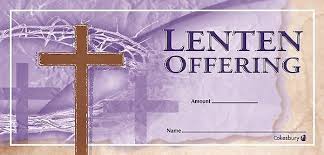 2018 Lenten Offering
There are a number of opportunities to give during Lent this year.  The six specific missions we have chosen to highlight during the season areNifty-Crafters, Project Crossroads, H.E.L.P., Camp Rainbow Connection, Habitat for Humanity, and the FUMC Pastor's Discretionary Fund.Information will be shared briefly explaining the work of these six missions during the Lenten worship services, in the bulletin and in the electronic Pilot. You can give to one or more of these special missions or the general ministries of the church.  Please specify on your envelope and in the memo field of your check exactly how you want your contribution distributed.
Pastor's Discretionary Fund
A Lenten Mission
The Pastor's Discretionary Fund has existed for many, many years solely because of donations by members and friends of First Church. Its purpose is to provide emergency financial assistance to persons in need, both church members and others outside of our congregation.  Cash is not given out from this fund, but specific bills such as rent, or utility bills may be paid directly to the company or landlord.  Another option is that the recipient may be given a gift card from a grocery store or another store that sells necessities such as Walmart.  In addition to being a Lenten Mission, every month when we have communion, there is a small basket available for contributions. You may also use a Communion Fund or Welcome envelope any time to designate a contribution and put it in the offering plate.   This fund has suffered from inattention in recent years, and we are hoping that by shining a spotlight on it in these ways, we will be able to build up a fund that can be used to assist many more people in need.
---
EASTER SUNDAY
9:30 am Light refreshments
Fellowship Hall9:45 am Sunday SchoolOne Unified Worship Service
with Communion
11:00 amDon't forget to bring
some fresh flowers
to adorn ourResurrection cross
outside of the fellowship hall!
---

---