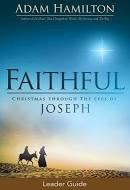 4-week Unified Adult Sunday School Advent Study
"FAITHFUL, Christmas Through the Eyes of Joseph"
by Adam Hamilton,
9:45 – 10:30 am 
Meet in the fellowship hall
November 26 – December 17, 2017
From his beginnings as a humble carpenter to his all-important role as the earthly father of Jesus Christ, Joseph's place in the nativity story is sometimes overlooked but contains valuable lessons for all of us. Join Adam Hamilton as he examines Christmas through the eyes of Joseph. Absent from much of the biblical narrative, Joseph never spoke a word, but his courageous actions were crucial to the birth of Christ and God's salvation plan for humanity.
As you read this book, you will understand how Joseph's story is much like our own. In life, we encounter circumstances that we would never have chosen for ourselves. At times it can be tempting just to walk away. Joseph provides us a great example of humbly obeying God even when we don't understand and faithfully moving forward in the strength that God provides. Exchange your doubt for courage this Advent and Christmas season.
---
ADVENT

2017 FUMC Advent Calendar
​
December 17, 2017 Third Sunday of Advent
*  Lighting of the Advent candle JOY
*  Chancel Choir Cantata – unified service at 11:00 a.m.
*  Collection of items for H.E.L.P. Food Pantry
*  Fourth and last week of unified Sunday School Advent study
* Live Nativity at 6:00 p.m. Sub sandwiches provided although a love offering will be accepted.   Everyone is asked to bring a batch of their favorite cookies to share, a lawn chair, and a flashlight.  RSVP by December 15, 2017 to Laura Harris in the church office, 757-723-6577.
December 24, 2017 Fourth Sunday of Advent
*  Traditional unified service at 11:00 a.m.
*  Lighting of the Advent candle PEACE
*  Christmas Eve Lessons & Carols candlelight service
at 7:00 p.m. with communion
*  CHRIST candle will be lit at the evening service
Notes: Advent Devotional Booklets will be distributed starting Sunday, Nov 19.
Angel Tree sponsored by Congregational Care will be available starting Sunday, Nov 19.
UMM Annual Breakfast and Toy Drive will be on Saturday, Dec 9 at 8:00 a.m.
Hampton Holly Days Parade is on Saturday, Dec 9 at 7:00 p.m., Settlers Landing Rd.
New Year's Eve, Dec 31 –  two services as usual and regular Sunday School time.